Commercial Electrician Gold Coast
Delivering Electrical Services You Can Trust For 25+ Years.

Will Power Electrical
5

Stars - Based on 8 User Reviews

Commercial Electrician Gold Coast
Gold Coast Commercial Electrical Projects & Services For:
Keeping your business running and your people, plant and property safe is non-negotiable to any commercial or industrial enterprise. Here at Will Power Electrical we've kept many hundreds of businesses running smoothly over the years, with services including:
Electrical Repairs & Maintenance
Factory Fit Outs
Emergency Lighting Maintenance
Thermal Imaging
Power Monitoring
Safety Switch Testing
Test & Tagging
And much more
Queensland Licence Number: 40678  | NSW licence Number: 196241C
The Trusted Commercial Electrical Choice For Gold Coast Businesses.
---
We know that your Gold Coast commercial electrical work needs to be done quickly, within a tight time frame, and that time is money: when you're repairing or maintaining an item or installing equipment, you're doing it because you need it, and it will generate money for your business. It's necessary, and you can't be kept waiting.
We're an family-owned small electrical business, not a multinational or a franchise. We're personally accountable to you and your business; you won't call us up and get someone over in Sydney. When you contact us, we'll come in to meet and greet you; you'll know who's working on your project, and they'll be answerable for their work. We'll offer helpful advice, and when you're ready to work with us, you'll be top-priority.
Retail & Manufacturing Commercial Electrical Specialists
From shopfronts to factories and fit-outs to emergency electrical repairs, we've worked extensively with a diverse range of Gold Coast and Brisbane businesses. We particularly specialise in the in-depth requirements of food processing operations, and understand the specific lighting and safety needs of food processing businesses. If you're looking for a reliable, prompt and professional Gold Coast commercial electrician, you've come to the right place!
No fly-by-nights, no shoddy operators, no fuss. Just the best commercial electricians in the Gold Coast.
---
We're a small business, and we understand business. Your reputation is everything, and so is ours. You don't want to waste time with tradies who aren't serious about their work, don't show up or aren't reliable; our team prides itself on being a genuine partner in your success.
We're serious about business, just like you, and we'll stake our reputation on it. With most of our business coming from referrals and repeat customers, we're an established part of the Gold Coast business community, as trusted the commercial electricians of choice.
Commercial Electrician Gold Coast Contact us Today
For Your Electrical Needs
Trusted Electrical Maintenance Experts
Our experienced team of Gold Coast electricians can diagnose, repair and maintain a broad range of electrical problems, as well as conducting preventative maintenance to stop a problem before it occurs! From power, lighting, data and telephone faults, to faulty light fittings and exhaust fans, and much more, we've got the knowledge and expertise to keep your Gold Coast or Brisbane home or business running smoothly and safely.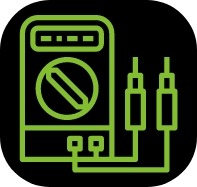 Electrical Maintenance - We'll stop your electrical problem in its tracks.
Preventative Electrical Maintenance - Keeping your electrical setup in
tip-top shape can save you from costly and even dangerous problems later.
Why Use Us?
---
Will-Power Electrical maintain & service many commercial and rental properties on the Gold Coast. You can rely on Will-Power Electrical property maintenance and electrical services to troubleshoot problems before they become a major & costly event. Our small team of electrical technicians work diligently to resolve any electrical issues in the safest, most economical method.
Our staff are always available to answer any questions from property managers, owners, or tenants.
Will-Power Electrical is a licenced & fully insured business that implement a compliant "Safety Management System"
How Does Electrical Maintenance Work?
---
Every powered building here in Australia has a switchboard, where all the electrical circuitry in your home or business originates from. Most home and business owners don't really look at their electrical switchboard until a problem occurs, and often years pass by without engaging an electrician for even a visual inspection. But when something goes wrong, it can be costly or even catastrophic.
From an insurance perspective, regular preventative electrical maintenance is often a compliance requirement for commercial and industrial businesses, including electric thermal imaging. Other important preventative electrical maintenance includes safety switch testing; switchboard maintenance; exterior, interior and emergency (incl. fire stairs) light testing; and visual inspections of your electrical setup.
Keeping on top of this as part of your building maintenance can save you headaches (or worse!) down the track.
On the other hand, when something does go wrong with your electrical installation, you'll want to make sure that the electricians you choose aren't fly-by-nights or shoddy operators; your home and/or business are too important to todo
What's Involved In Electrical Maintenance?
---
Whenever we conduct electrical maintenance work, we'll start with a visual inspection first to identify any potential safety hazards. Once we've conducted that preliminary risk assessment, we'll move on to electrical testing of your switchboard. At this point, we can also conduct electric thermal imaging to identify electrical hotspots that are likely to indicate problems, which are invisible to the naked eye.
Benefits of Regular Electrical Maintenance
---
Reduced downtime
More production
Reduced repair or replacement costs
Tighter quality control
Insurance Compliance
What is Preventative Electrical Maintenance?
---
Preventative electrical maintenance can prevent catastrophic failure of electrical components, by identifying and fixing a problem before it's actually broken completely.
As Will Power Electrical's owner and an electrician of over three decades standing, mostly on the Gold Coast, I've seen people neglect their electrical installations, often leading to catastrophic results and huge costs. As the name suggests, preventative electrical maintenance prevents that from happening, and will identify any catastrophic failure in that installation and prevent it from happening.
Why Do I Need Electrical Maintenance?
---
The reason to do electrical maintenance on your building is because it's fundamentally an essential service. People in business need their equipment to work, they need their lights and machines to operate. Similarly, at home you need your appliances and lights to work. When something goes wrong, or even before it goes wrong, you need your home or business to be serviced by a qualified, experienced and reliable electrical maintenance expert.
From body corporates to property managers, factory owners to homeowners, we all need electricity delivered safely and reliably to our premises, and for our property and equipment to be protected.
Who Can Benefit From Electrical and Preventive Electrical Maintenance?
---
Anybody who has a building that uses electricity - in other words, anyone! But specifically, we often work with property managers, building strata managers, and sometimes the owner of the actual residential, commercial or industrial building or the structure. Sometimes we'll work with service engineers, who might be permanently onsite, or full-time maintenance personnel.
We've worked with clients in almost any imaginable industry, from office buildings to retail stores, restaurants to mine sites, and we're looking forward to working with you.
Commercial Electrician Gold Coast
Contact us Today For Your Electrical Needs
Why Trust Will Power Electrical

Many Decades Of Experience In Electrical Services
We've been serving the Gold Coast and Brisbane for generations! Will Power was founded back in 1995 by Ben Williams, who has worked in electrical services for 35+ years.

Small, Local, Family-Owned Business
We're not a franchise, and we're not multinational. When you call us, you'll be talking to us,
As a valued community business, we see former customers around town all the time. From our quality to our professional customer service, we'll make sure when you see us around, you've got something to smile about!

Workmanship and Quality You Can Trust
Our carefully handpicked electrical experts get the job done right, first time. We use quality parts, all delivered to a high standard, and we stand by our installation and maintenance practices.

Reliability, Accountability And Safety
Most of our business are repeat clients and referrals! We take pride in our work, and we stake our reputation upon it.
Commercial Electrician Gold Coast
Contact us Today For Your Electrical Needs